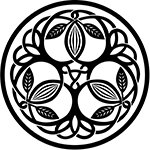 About The Chocolate Tree
We have been teamed up with Edinburgh's only "bean to bar" chocolate maker, who exclusively works in small batches using superior natural ingredients, ethically sourced and organic.
Alastair Gower, master chocolatier has selected two of his artisan chocolate creations that pair perfectly with our current subscription box containing Borders First Release Limited Edition. I hope you enjoy tasting Edinburgh's fantastic Bean to Bar producer alongwith the great Borders whisky.
David
Craft Whisky Club
Introduction
We create exceptional chocolate, whilst connecting our customers with the whole process and origin through authentic transparency. Our products are timeless and visually stunning works of edible art crafted with dedication and passion.
We are Edinburgh's only bean to bar chocolate maker, working in small batches using superior natural ingredients, ethically sourced and organic. We exist to bring you fine flavour chocolate whilst at the same time offering impoverished farmers better profits and preserving biodiversity.
Key people
Alastair and Friederike Gower, met whilst performing as "red men" in the Beltane festival of Edinburgh. The positive reactions we received at the festivals highly motivated us, and we progressed The Chocolate Tree to become our full time passion and business.
Alastair and Friederike have taken their love of chocolate to share it with us. They started by attending local farmers markets and craft fairs selling a range of hand made chocolates and organic certified bars, which led to selling chocolate to the local farm shops and delicatessens in and around Edinburgh. We have always been organic certified and used certified or otherwise ethically accountable ingredients. They now sell our chocolate bars across the UK and overseas, to stockists who are either small family ran businesses or otherwise engaged in the ethical conduct of their business.
The Perfect Pairing
Posted over 6 years ago - by David Nicol, Chief Taster, Craft Whisky Club
The extra dark chocolate with fiery ginger brings out a whole new dimension to the BORDERS whisky, with explosions of of spice mixed with the fruitiness of dark chocolate.
Edinburgh Shop: 123 Bruntsfield Place,
Edinburgh, EH10 4EQ
Haddington Shop: 11 Hardgate,
Haddington, East Lothian, EH41 3JW
Factory: 5A Knox Place,
Haddington, East Lothian, EH41 4DY